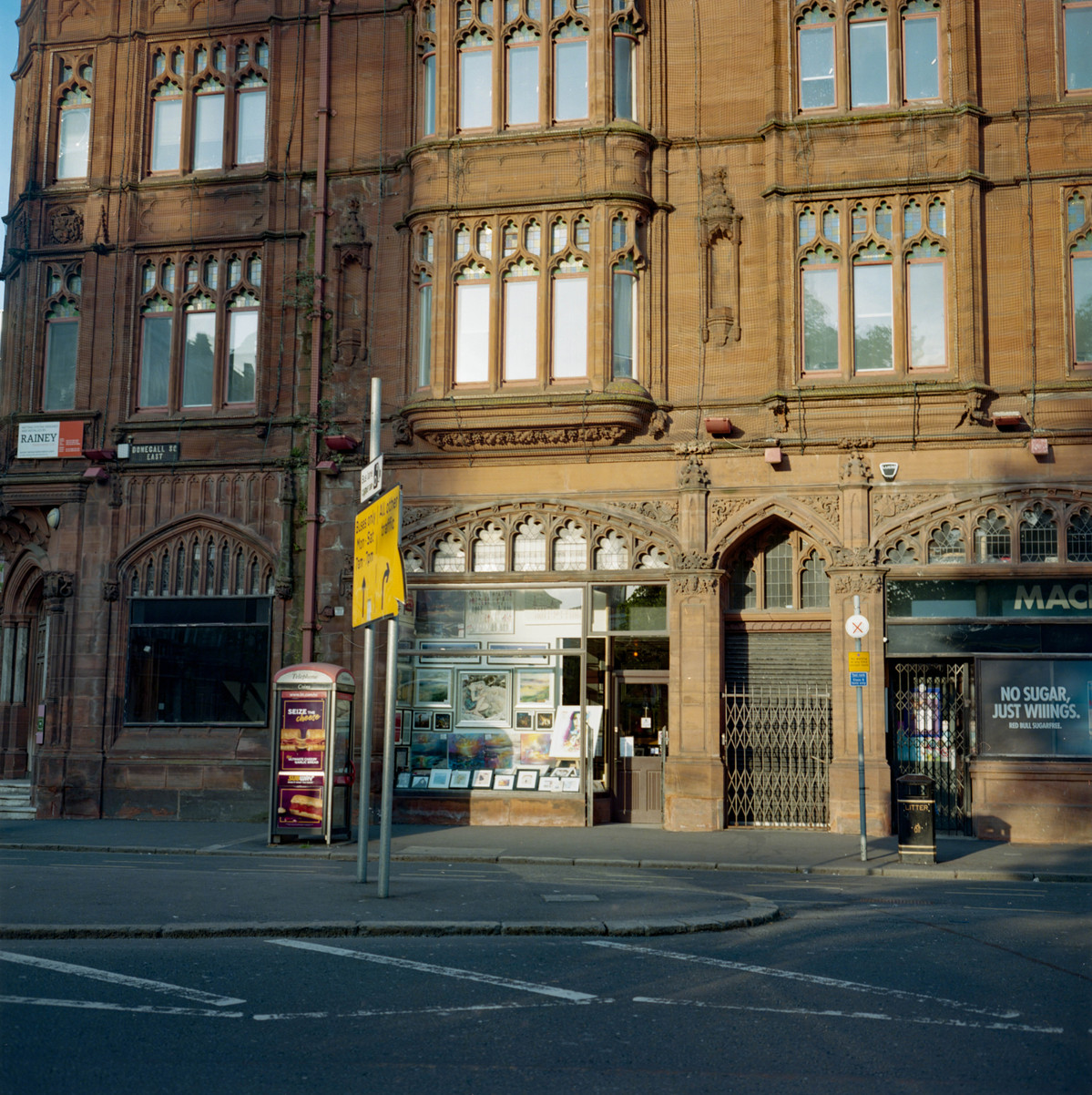 Three local teenagers
I had trouble feeling connected to the city.
They were the first ones in the park I approached to ask for permission for a photograph. They were also the first locals I spoke to beside the old motel receptionist, who was kindly advising me not to go out alone after a certain hour due to my gear and how I looked like.
I took round before I decided to cautiously ask them for a photo. They've been noticing me when I first walked past them. The park was rather quiet compared to how it would be later in the noon. Sun was hiding behind the clouds, with a bit of chill in the air. The boy with half-pink hair said 'sure' to my request and the other two silently agreed. I was almost timid but surely fascinated by the look of the boy with the hood, so I did not notice his gesture in the photo until I developed the film. After the photograph, two boys on two sides replied to me with a smile from my appreciation. I walked away, and I started to truly feeling this city, Belfast.
Joe
I found Joe on the left side of the monument. He was facing the sun with his chin up, sitting on one of the stone benches. Even when I approached closer, his muttering prayer still kept him well focused. It made me wonder what he was looking at before he closed his eyes. I approached him after I saw him draw a cross in front of his chest in the air.
He slowly opened his eyes and turned his face to me. He looked at me. Till today, it is still hard to describe his look. I continued the conversation. He's a wordless man, born and raised here in Belfast. Unlike being in any non-English native speaking country, talking with elderlies is fairly easy here — or, let's say too easy. I asked him where I can find more locals like himself. He pointed somewhere in the North. 'You keep walking in this direction, and you will see a park. You will find what you may want there.' I thanked him and left. Before I stepped out of the park, I turned back for another close-up.
I did go in the direction he pointed. There was no park nor green, but more wilderness.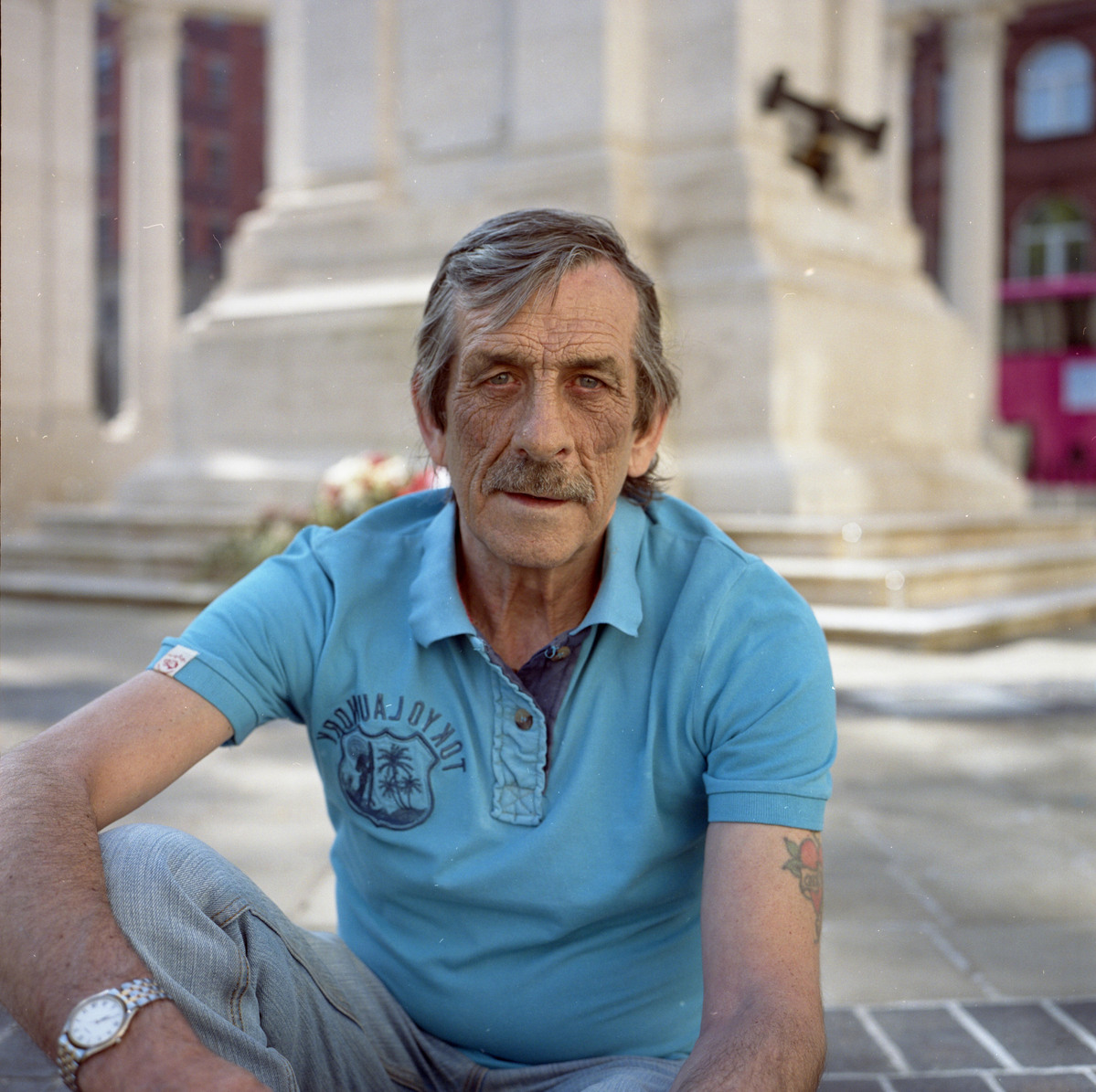 Kevin
'Is it Kevin from Kevin Hart?', 'Yes.'
Kevin was smoking a cigar. He said the normal cigarette tastes too light. I met him outside the park fence, benches are being placed for people to enjoy the road view. I thought he might be from the region by the casual look, the Booth bag, and a can of beer. Hesitation did not stop me from asking about the obvious scar on his right forehead. It turned out that Kevin is a Criminology professor from The University of Chicago, who was on the field trip with his students and other colleagues. They just paid a visit to a famous local jail. The scar was caused by an accident last night—drinking booze in a bar—and fell on a table corner. They were heading to Dublin the next day. He was snatching a moment of leisure on his own in the city centre before I caught him. We chatted about being in Belfast. I recommended him about the ongoing grand exhibition after figuring out he is also into Game of Thrones. It didn't surprise me. I felt strangely free to talk to him. Then I threw one of my last questions, 'Is It easier to have the type of your appearance to be in your field?' I vaguely remembered he was positive about it.
The second day I spotted another guy, who happened to sit at the exact same spot as Kevin did. Bald, black T-shirt and tattooed. I had eye contact with the guy for more than ten seconds, till I realised it was not Kevin. He should be in Dublin by the time.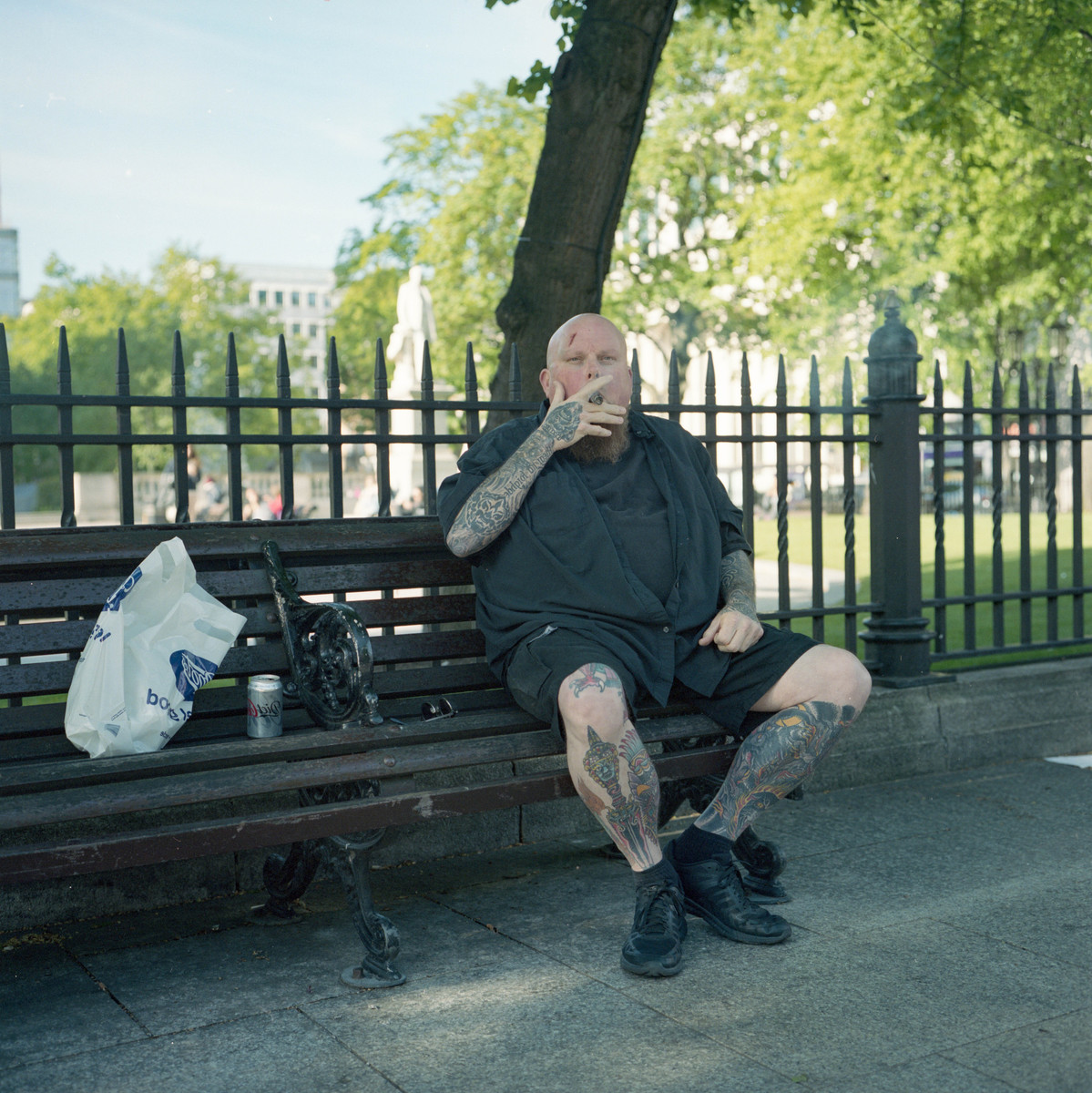 Freshman in Fashion
I went back to where I met Joe. Then I saw a young boy sitting alone. I have to say I was fascinated by people sitting in a park alone without being on their phone. He killed the cigarette bud after I introduced myself. The boy has a very gentle smile. He is also a Belfastian. My honest feeling, I wouldn't have much chance to talk to many young people his age somewhere else in Europe. He was a freshman studying fashion. He was a bit bashful but passionate about what I was doing. He showed me his Instagram after I gave him mine. I liked how he dressed, and he was quite positive for a portrait. I asked him, 'did anyone tell you that you look like Justin Bieber before?'. 'Yes, a couple of people', he replied.
I am very sorry I did not write down your name. If you see this post, please text me to remind me of your name, and please teach me how the people from Belfast actually call yourselves.
Madalina Hart
Red dress, green grass. It is hard to ignore her. I walked closer and noticed she was having a conversation on the grass with two other girls. Soon they stood up and left her. My steps froze as I saw a tear fall off her cheek. I felt guilty.
She walked to other people resting on the stone stairs below the statue and sat down next to one guy leaning against the statue. She asked for a cigarette. After I took a walk in the park, she moved back to the grass field, smoking with a group of guys who seem to be tourists. The third time I ran into her, I asked her for a portrait. I asked for her name, I asked where she is from.
'I'm from Italy. I was adopted here.' I assumed she grew up in Belfast from her Irish accent. I asked why she was crying and she answered. She asked me whether I have lipgloss for her to use for the moment. Before the photo, She asked if there's still tear stains on her cheek.
'I used to be a model.' she said it with a slight of cheeky proudness in her eyes. She was sitting on the grass as the first photograph showed, it almost looked like it was a collage rather than real. I asked her to sit on the stone stairs again, she sat down after a series of adjustments, positioning her legs. After the photo, she opened her arms. 'Do you want to give me a hug?', I asked. She held my face, 'you really made my day lovely', and she said. I felt a bit sad. I offered her a coffee, and asked her to stay where she was before I'm back from any café I can find nearby. The café felt so far away from me, even the map stated '7mins walk'.A small episode while getting coffee. The 50 cents change I received has a cat on it. The shop assistant told me it belongs to a limited edition collection, which they produce once a year. On my way back, In the distance I could see her talking to a guy with a beige cap a plastic bag. I put down my guard, after she happily introduced me to the guy. It was her boyfriend. He's name was David. I suggested he ought to try to get Madalina to put on a jacket. The weather was chilli. I told Madalina the same before, she said it's more pretty to dress like this.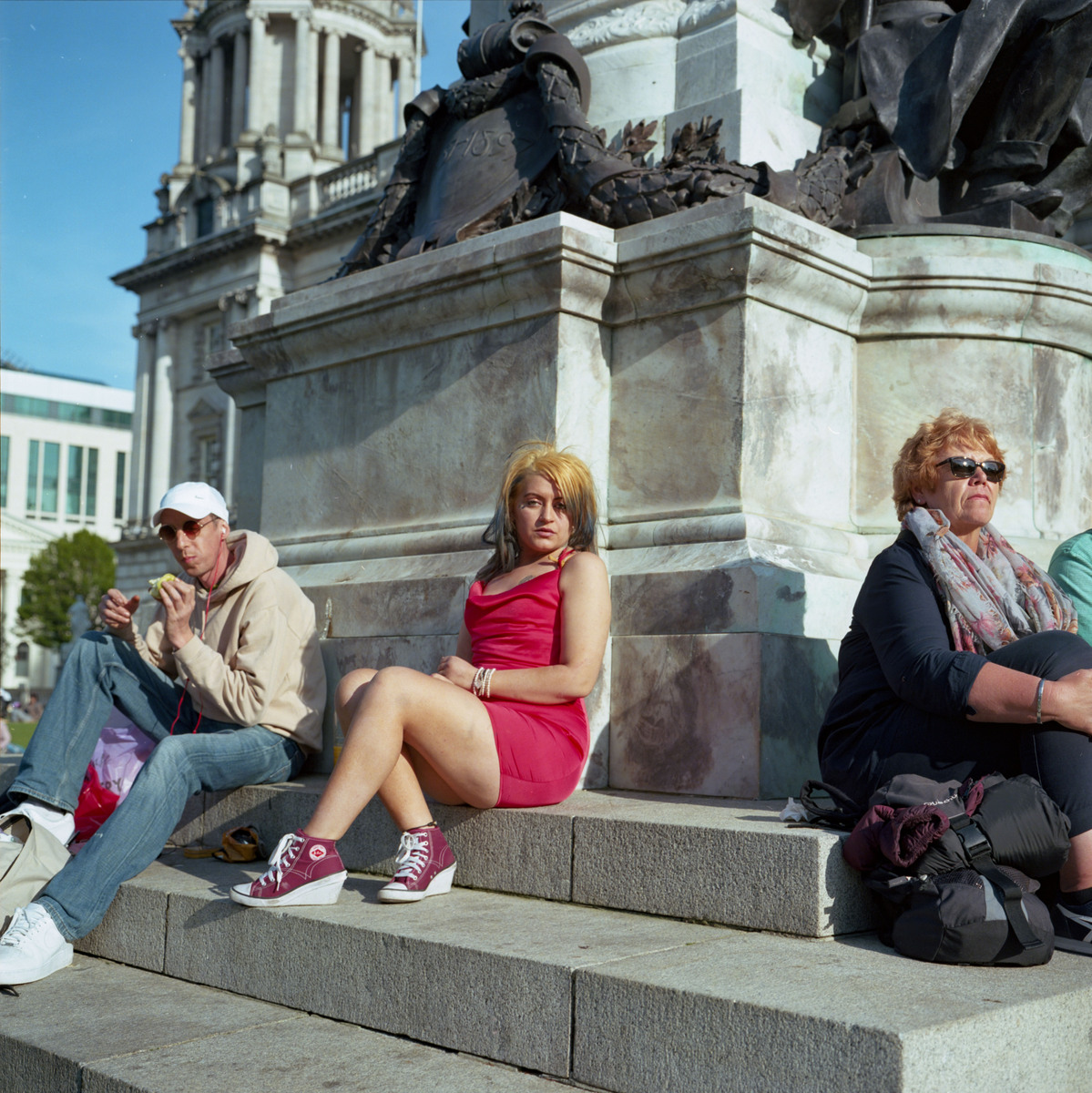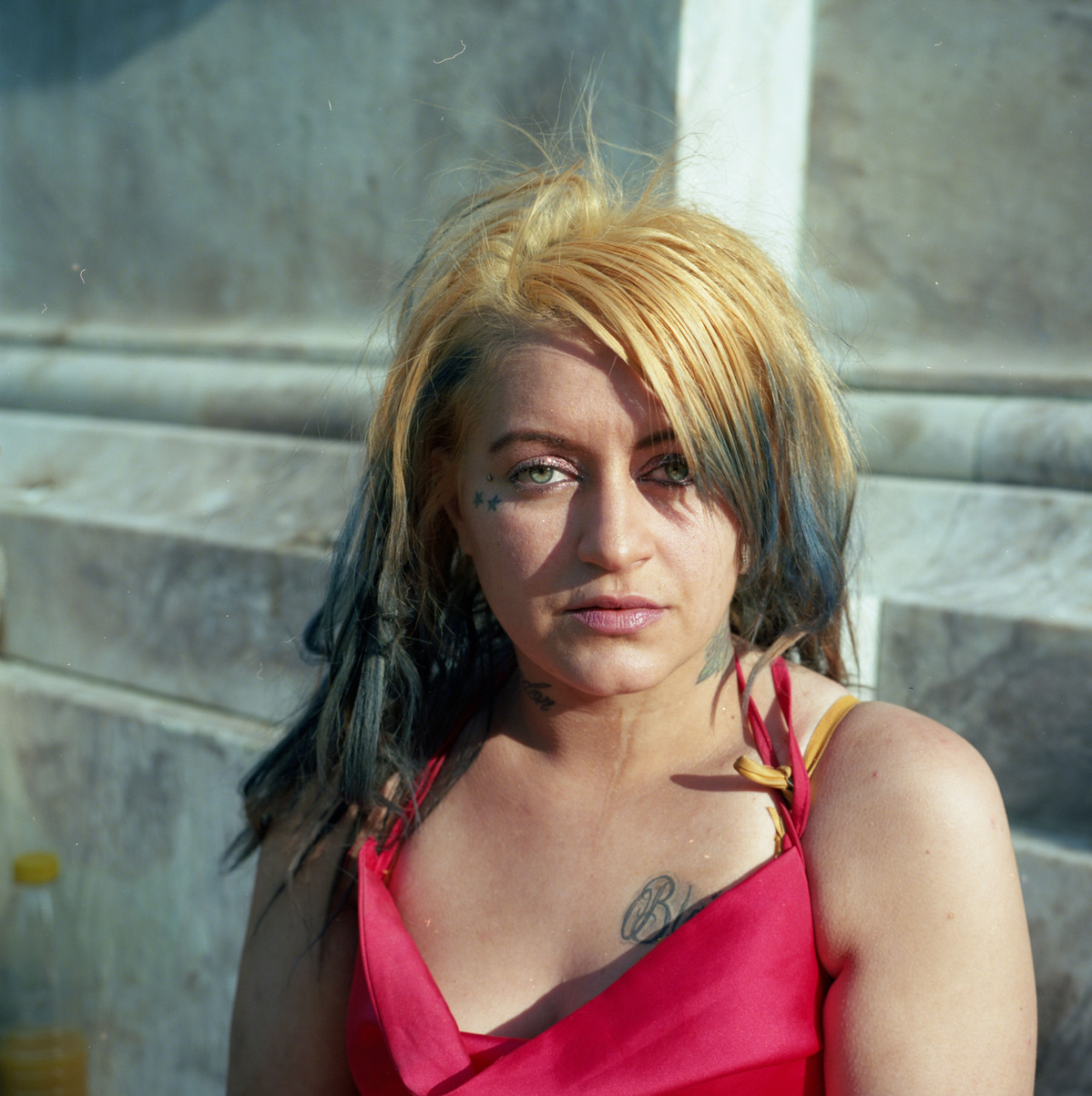 Matthew
If I have to describe the feeling, it was more like an instinct to ask him for the portrait. Matthew was sitting on the bench around the park, waiting for his friend. ' Yes, you can take a photo of me. Although, it is strange you chose me.' In which, I was more convinced for the anonymous reason that drove me to this photograph.
James
James was like a breeze of soft wind you may encounter in early summer. It flows through your hair and brings you a taste of oceanic humid air. 'You know you are not obligated to smile for the picture. Unless you are a very kind person, then you should keep smiling.' He kept smiling while telling me he was bright about it.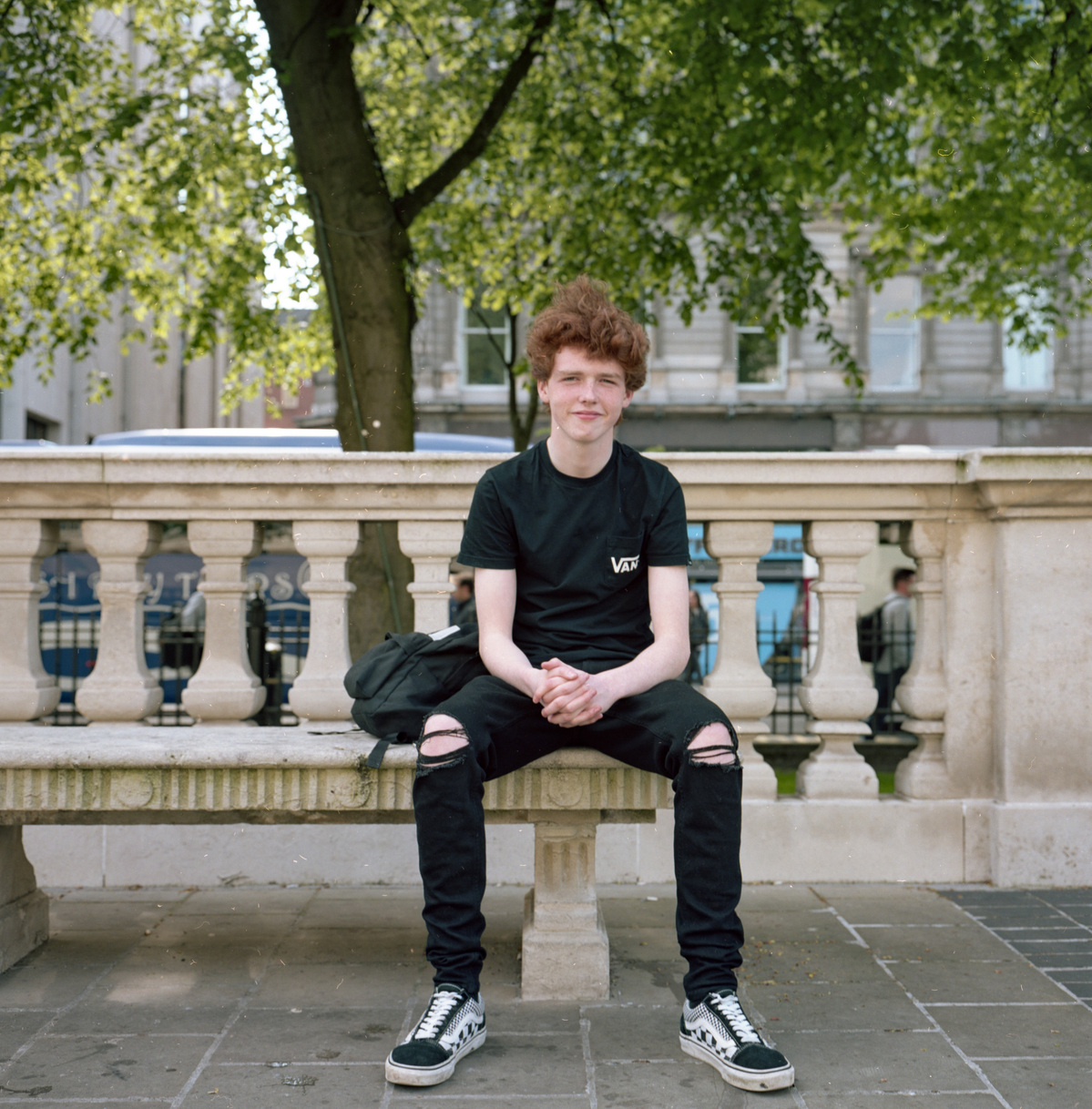 Dr. William Gably
I ran to this old gentleman before he's out of my sight outside the park. He had no issue with being in a photograph, although he did ask me why he. 'My name is Dr. William Gably,' he said. I smiled and he continued, 'look at those pretty teeth.' It sounded like he's telling himself instead of me. I didn't quite catch the sentence, so he repeated, 'also a good looking face.' I felt a bit bashful and thanked him. He gave a compliment to a girl's pink shoes before he kept walking.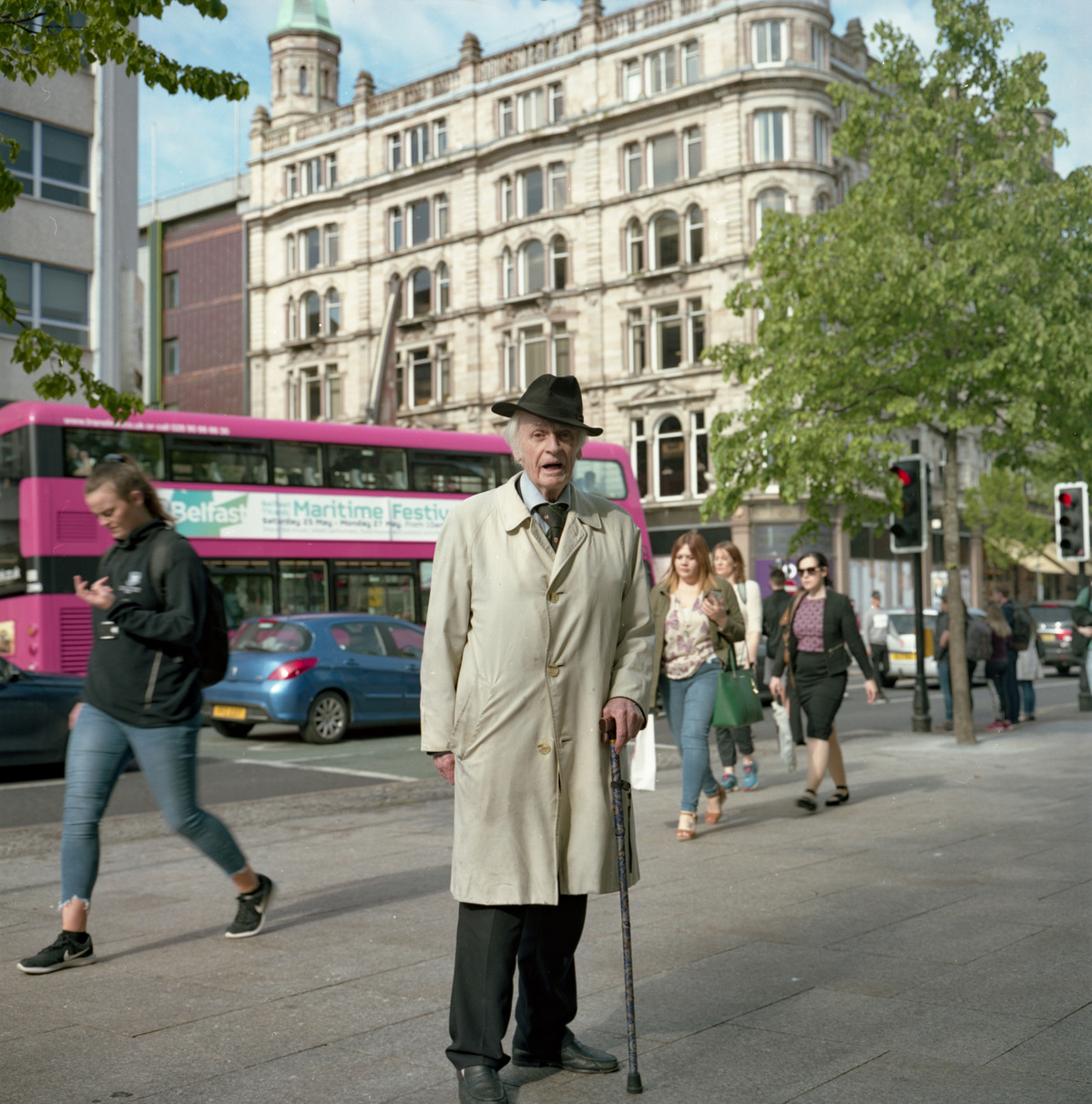 Friends of Three
Friends for many years. Their looks said more than words. The guy on the left with his suitcase is flying somewhere in the afternoon, so they decide to chat in the park before he leaves.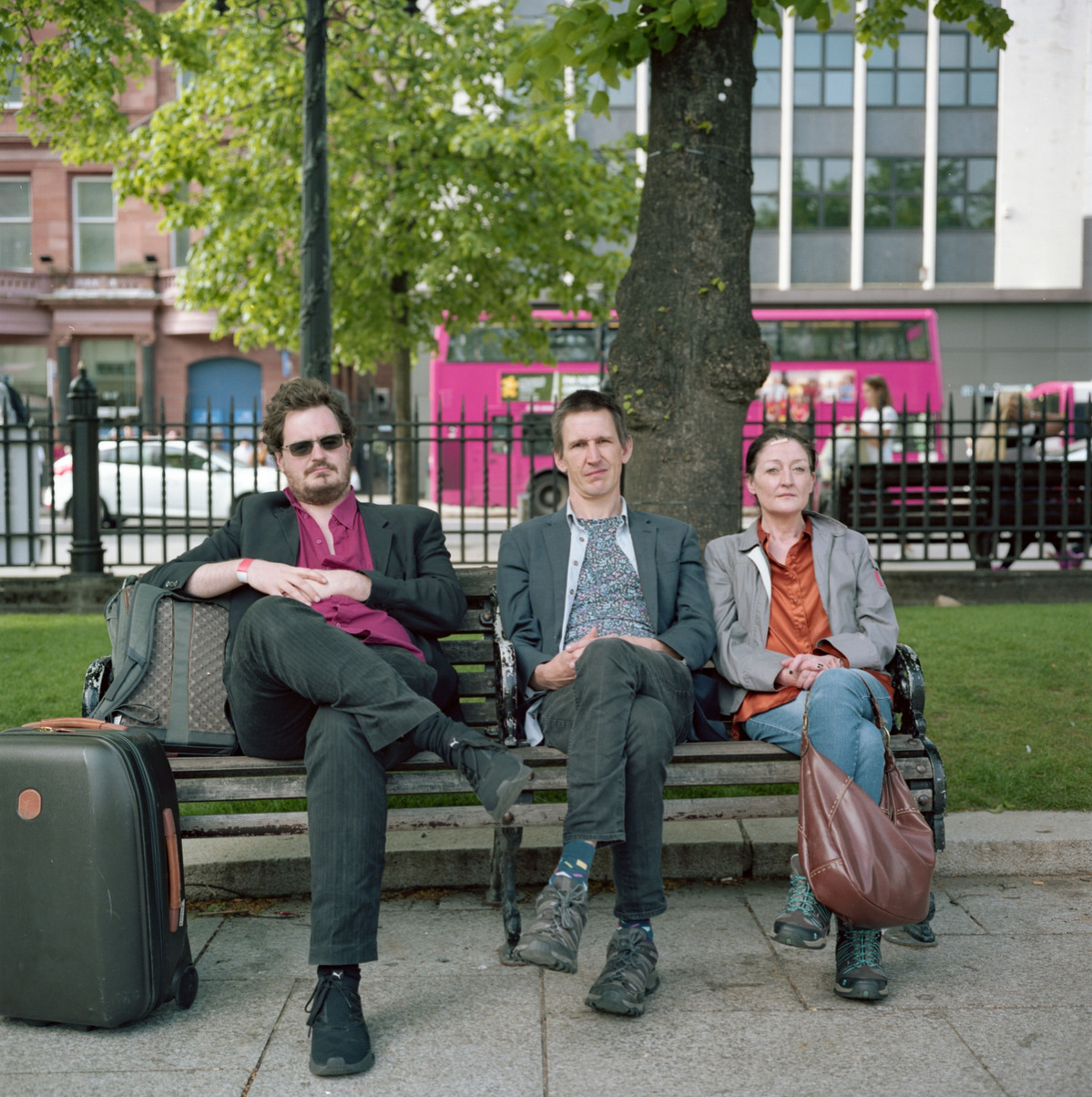 John
Belfastian. Our conversation happened without language. He was sitting on the stairs on the left side of the monument area. While chewing his lunch, he used facial expressions and nodding to reply to me. I felt rude to shoot during his meal, he hinted to me to go ahead with his hands and looked into the lens. Soon after that, he was gone. I saw two other guys sitting alone on the stairs facing the monument.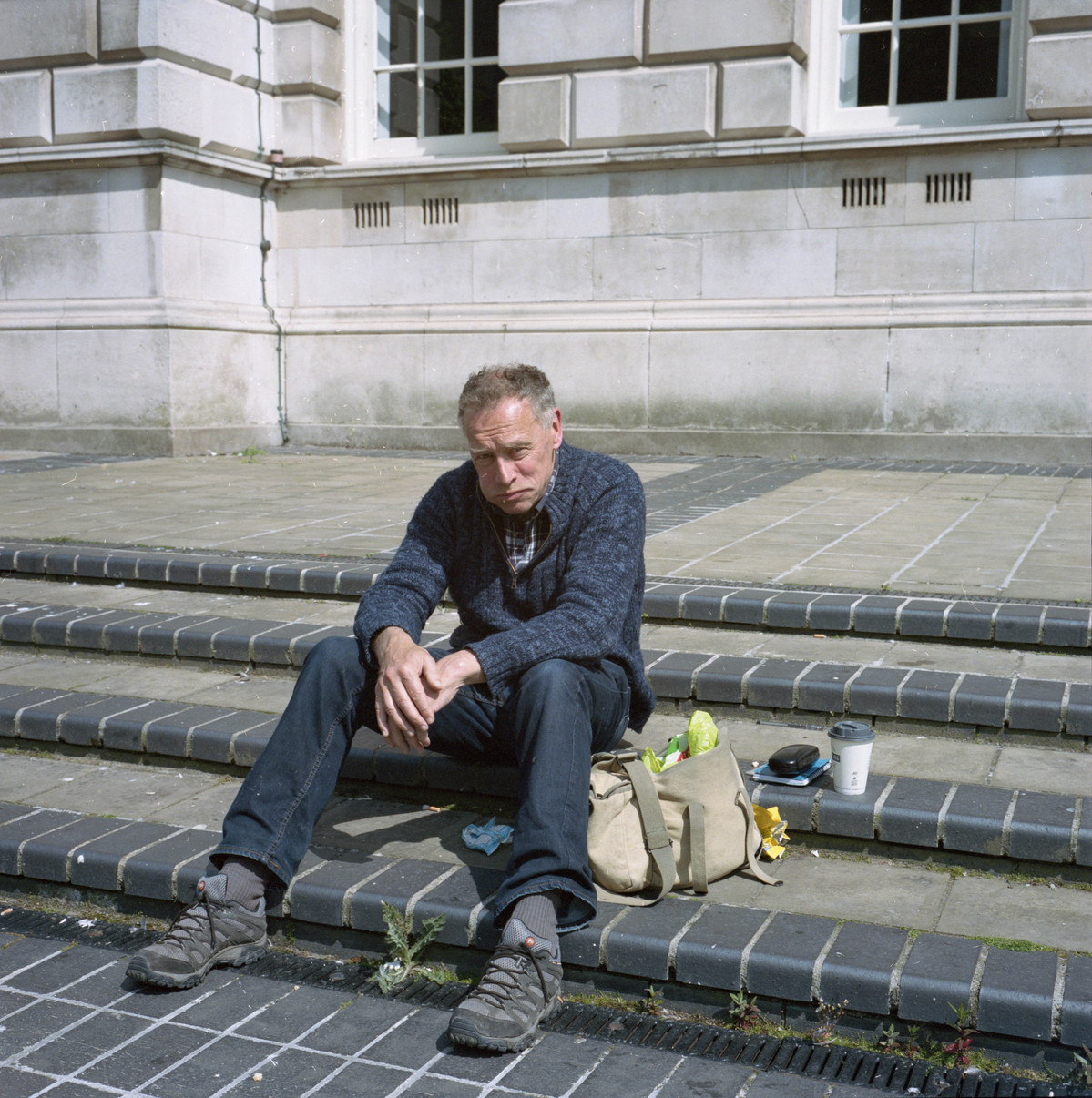 Teresa and Fiona's Afternoon
They were drinking coffee while sitting on the grass. I didn't photograph many people on the grass, except these two ladies and Madalina. Teresa in pink gets stiff for the photo just like my aunties. I fancied her pink boots. Fiona in black was constantly talking and Teresa had to calm her excitement down occasionally. They also addressed Madalina. The sunshine went away when the conversation ended.